Democracy at the Crossroads
Press Release from Fulcrum Press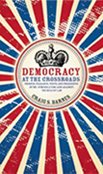 Denver, CO—According to award-winning author Craig Barnes, "the rule of law and a civil society bound by conventions of justice and fairness is today under challenge," and as a result, "the United States is once again engaged in a great struggle for its civic soul." In this engaging and eye-opening book, Barnes examines how Western ideals of democracy have evolved and emerged through the ages and across continents. Unlike the many books that have been written on this topic, Barnes eschews simple current affairs analysis and name-calling, instead grounding his argument on a deep understanding of history and an exploration of the philosophical and legal underpinnings of democracy. He shares the inspiring stories of a diverse group of men and women—including our nation's founders, as well as parliamentarians, poets, and peasants—who pioneered due process, habeas corpus, and the balance of powers.
Exploring the premise that democracy is not a given in social evolution, Barnes contrasts the heroic figures of history to those in recent presidential administrations whom he argues have ignored the precious nature of our inheritance and have placed democracy at risk. Democracy at the Crossroads is a stirring reminder of the fragility of our rule of law and the need for vigilant protection of our hard-won liberties at a critical juncture in our history.
Craig S. Barnes has been involved in public policy and women's rights throughout his wide-ranging career. As a lawyer, he served as co-counsel on the Denver school integration case and the nation's first comparable worth case for women. Barnes has been a columnist for the Rocky Mountain News and a regular commentator on National Public Radio. In the 1990s, he facilitated talks between opposing sides in the war between Armenia and Azerbaijan, and has served as an international mediator in several of the former Soviet Republics. He is the author of Growing Up True (a BookSense 76 pick) and In Search of the Lost Feminine (winner of the Eric Hoffer Award). In 2006, in the midst of growing concern about the war in Iraq, Barnes wrote and directed Ed Asner inn a staged reading of a trial drama, A Nation Deceived: America's First Presidential Felony Trial. Barnes lives in Santa Fe, New Mexico.